Kvinna till Kvinna's leadership
The Kvinna till Kvinna Foundation's strategic course is set by the Board. Our secretary-general, Petra Tötterman Andorff, leads the organisation's daily operations.
Kvinna till Kvinna's Board is elected every fourth year by WILPF Sweden (Women's International League for Peace and Freedom) and the Swedish Peace and Arbitration Association.
The Board meets seven times a year. It is chaired by Devrim Mavi.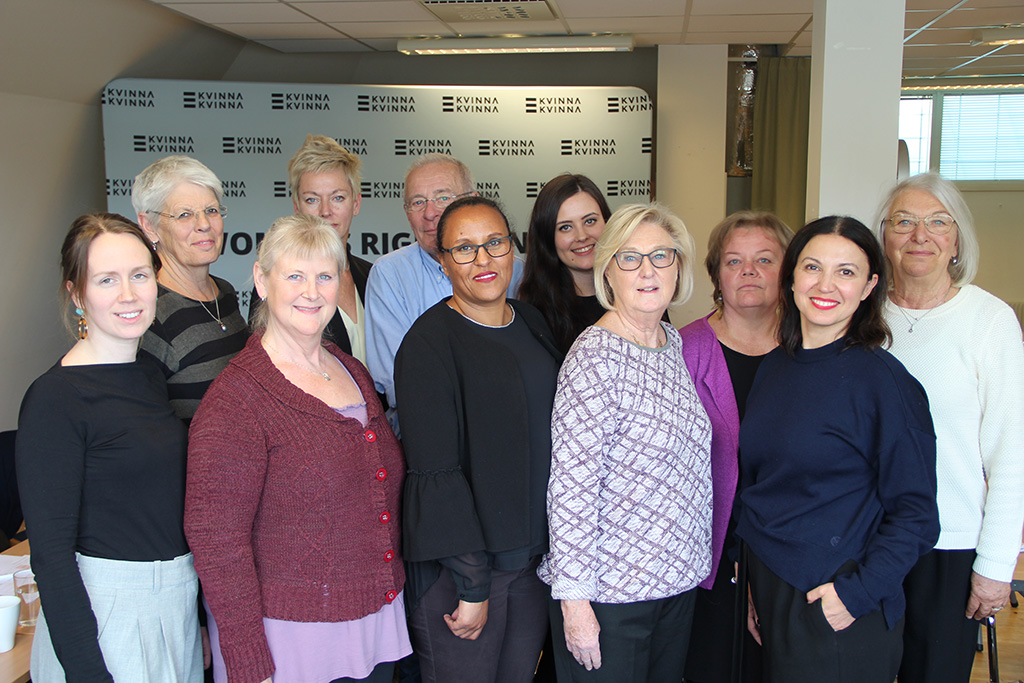 Devrim Mavi
Chairperson
Former head of the Feminist Initiative party's registry at Stockholm City Hall.
Former editor-in-chief and journalist.
E-mail: devrim.mavi(at)gmail.com
Viola Furubjelke
Deputy chairperson
Former member of the Swedish parliament, ambassador to Syria/Lebanon, secretary-general of the Olof Palme International Center and chairperson of the Swedish UN Association.
E-mail: viola.furubjelke(at)telia.com
Kajsa Wejryd
Secretary
Former head of Uppsala's municipal upper secondary education and adult education. Former teacher and president of Women in the Church of Sweden.
E-mail: kajsa.wejryd(at)telia.com
Maria Appelblom
Board member
Superintendent at the Police. Former chief of the UN Standing Policy Capacity.
Email: maria.appelblom(at)gmail.com
Lars Jalmert
Board member
Emeritus professor of education, Stockholm University. Board member of the Fredrika Bremer Association.
E-mail: lars.jalmert(at)edu.su.se
Johanna Mannergren
Board member
Peace researcher at The Swedish Institute of International Affairs.
Former journalist.
E-mail: johanna.mannergren(at)ui.se
Malin Almroth
Board member
Co-ordinator at Victim Support Sweden in Gothenburg.
Former educator at the foundation Expo.
E-mail: malin_almroth(at)hotmail.com
Lena Backhausen
Deputy board member
Licensed psychologist.
Former HR manager and leadership and organisational consultant.
E-mail: lena.backhausen(at)comhem.se
Tsehainesh Tekleab
Deputy board member
Environmental strategist at the Swedish Public Employment Service.
Former employment officer at the Swedish Public Employment Service.
E-mail: tsehainesh.tekleab(at)gmail.com

Carina Andersson
Deputy board member
Branch head at the eastern and southern Africa unit at the Swedish Red Cross.
Experience in the field of foreign aid.
Lisen Bergquist
Deputy board member
Head of operation for World Anti-Bullying Forum at Friends. Legal expert with a focus on human rights and international law.
E-mail: lisen.bergquist(at)gmail.com