The Kvinna till Kvinna Foundation's secretary-general, Petra Tötterman Andorff opened the digital Feminist Peace Conference in Western Balkans on June 16th with the statement: "As stated in Kvinna till Kvinna's global strategy, 'feminist peace' is the approach to peace and security that seeks to address the root causes of structural violence and power inequalities, while simultaneously working towards gender equality."
Over the course of three days, between June 14th and 16th, activists from the Western Balkans, Ukraine, the EU and other regions discussed women and feminist organisations' role in peacebuilding and conflict transformation. The discussions culminated on June 16th with the participation of representatives of several EU institutions, the organisation for Security and Co-operation in Europe, UN agencies and international non-governmental organisations. Activists addressed Feminist Peace and what it really means in everyday life while referring to communities they come from, offering alternative narratives to militarisation, nationalism and war.
Oksana Patapova, feminist activist from Ukraine and a Kvinna till Kvinna employee, spoke about the current situation in her country and how women are affected, urging for inclusion of women in peacebuilding processes.
"It is important to recognise women's role in peace and conflict resolution as a holistic approach to peacebuilding," she said.
Diana Francis, activist and academic from the United Kingdom added the need for a shift in the security concept: "Local activists can create huge things, especially also post-conflict," she said.
Lejla Gačanica, activist and Kvinna till Kvinna employee from Bosnia and Herzegovina, reflecting on experience from her country, said that "women are excluded from decision-making, from peace negotiations even today; from reforms, especially constitutional reforms." She highlighted that "changing the status quo would require women to actively contribute to peace processes."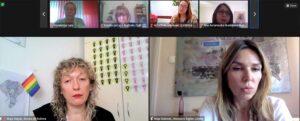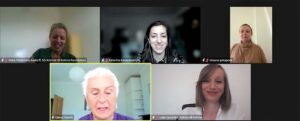 Participants at the conference.
Anti-gender movement and counter-strategies
Kvinna till Kvinna partners, stakeholders and representatives also used the opportunity to address the anti-gender movement, which has been on the rise in recent years in the Western Balkans, but also globally. They spoke about the consequences such a movement has for a democratic society.
Eva Zillén, senior advisor at Kvinna till Kvinna, pointed out that the "anti-gender movement works to silence the ones that are working for change."
Irena Cvetković and Lana Bobić, feminist activists from North Macedonia and Croatia, respectively, spoke about their long-lasting fights for gender equality and women's rights, explaining how the anti-gender movement has affected the work of women and feminist organisations in their countries.
"They use fake news and fictional constructs and use them as if they were legitimate. Hate speech is part of this derogatory mechanism and it affects our work and our reputation," Lana Bobić said.
Irena Cvetković added that the situation in North Macedonia is similar to Croatia, stating that "due to the anti-gender movement's efforts, we lost out on reforms we advocated for the past ten years. One referring to the law on educational reform—promotion of gender equality and comprehensive sexual education in schools and another to the law on legal gender recognition."
Instead of promoting democratic principles, equality, human rights, rule of law and justice, this movement attempts to silence certain voices in public space, deconstructing participatory democracy, participants agreed.
Activists agreed that narratives used by the anti-gender movement affect the work of women and feminist civil society organisations, thus posing a serious threat to all that has been accomplished so far with regards to advancement of gender equality and women's rights, including peacebuilding in the Western Balkan societies and beyond.
The conference also addressed anti-gender movement counter-strategies. Participants decisively placed the emphasis on ways forward in securing inclusive and democratic societies, rather than to principally focus on the actions of the anti-gender movement. However, they agreed that the most effective approach to deal with the consequences of the movement is to bring legal cases before courts.
Irena Cvetkovć said: "We have to address this movement proactively and not reactively. One way to do this is to fight the movement in courts." Activists stressed that this is one of the most effective ways forward in the fight against hate speech and disinformation they spread about women human rights defenders.
In conclusion of the conference Katerina Karakatsanis, peacebuilding advisor at Kvinna till Kvinna, sent the message that "the power we have is where we can start from to make the change in an unequal world. We have the power for peace."
Watch the panel discussions afterwards
Panel discussion one: The Anti-gender Movement and Counter-strategies
Panel discussion two: Alternative Narratives—Feminist Peace