Stepping up the work for girls' rights during "shadow pandemic"
Girls kept at home during the covid-19 pandemic are at greater risk of being exposed to violence, child marriage and pregnancy. Teen mother Rwema, however, has rebuilt her life thanks to capacity building by local women's rights organisation Réseau des Femmes.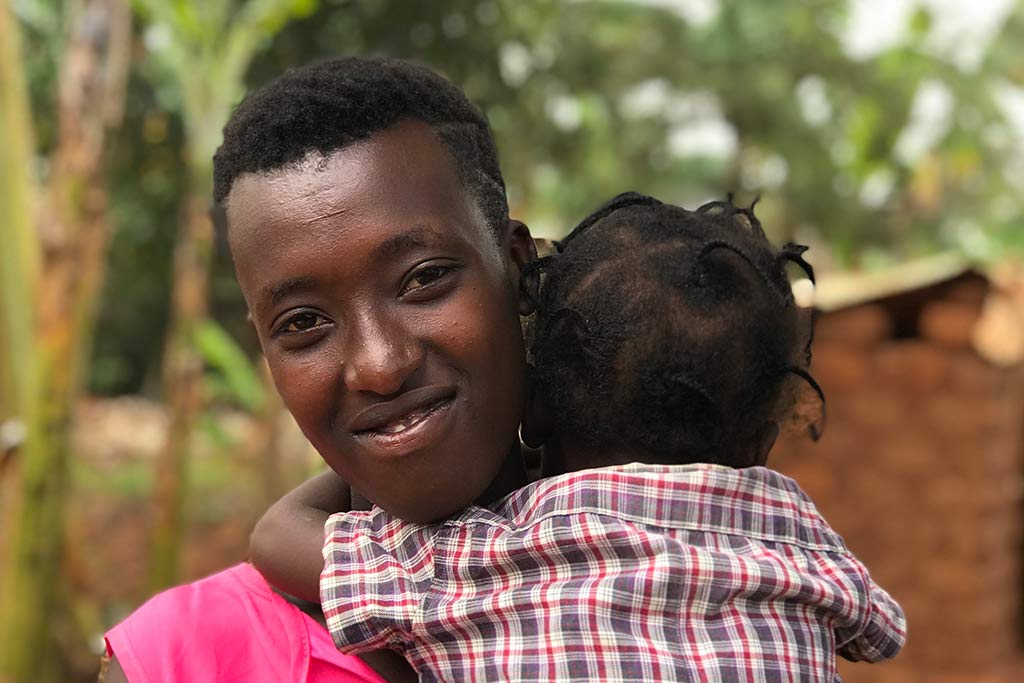 She was only 16 when it happened. Rwema's family was living under poor conditions and she had received help from a 23-year-old man to pay for some essential items. Rwema was on the way home from school with her friends one day, when they came across the man on the road. He asked her to stay behind.
"When my friends were out of sight, he became aggressive and asked me to pay him back for all the things I received from him. I explained that I had no money and then he said it wasn't money that he wanted. He raped me and threatened me," says Rwema.
No medical insurance
Rwema was afraid of what had happened and afraid to tell her parents. A few weeks passed and she began to worry that she might be pregnant. Rwema talked to her mother who helped her get the 3,000 Rwandan francs needed to take a pregnancy test. It came back positive. A hard blow for the family.
"My parents were constantly fighting because of me and my father even left us for a while. I couldn't get medical insurance, food or clothes for the baby. The man who raped me was still free and continued to harass me," says Rwema.
Lack of evidence
That's when Rwema came into contact with the Réseau des Femmes Oeuvrant pour le Développement Rural—one of Kvinna till Kvinna's partner organisations in Rwanda. They work to end gender-based violence, support survivors and prevent teenage pregnancies in rural Rwanda.
It was only when Rweme learned about her rights that she understood she could report the man. And she did. Réseau des Femmes also advised her on how to acquire a free DNA test which proved the fatherhood.
"He's in custody now and the case is still ongoing. I am confident that I will have justice," says Rwema.
The "shadow pandemic"
Rwema's situation is far from unique. In the shadow of the covid-19 pandemic, when schools are closed, local women's organisations see teenage girls as a particularly vulnerable group. Girls kept at home are at greater risk of being exposed to violence, abuse, pregnancy and child marriage. Many may never return to finish their education. The "shadow pandemic" risks shattering future hopes for many girls who lose power over their own lives.
Uwimana Xaverine, national coordinator of Réseau des Femmes, says they've been approached by a number of teen mothers during the pandemic asking for advice on how to tackle child marriage.
"Their parents want them to get married to wealthy men who have accepted to take them on with their babies. This wouldn't allow girls to continue their studies," she explains.
Réseau des Femmes now prioritises increasing the access to SRHR information, reaching out to and working with parents and teenage girls on child rights (including the right to education), organising back-to-school campaigns as well as enabling economic empowerment.
"My dream is to graduate"
During the pandemic, Rwema has received support from Réseau des Femmes to secure food, sanitary products and protective gear. With the financial training she received from the organisation, she has been able to run a small business and help keep her family afloat. She is determined to go back to school again and also supports other teenage mothers to report their perpetrators.
Despite everything she has been through, Rwema remains hopeful and has faith in her future.
"I am excited to go back to school again as soon as it opens. My parents have agreed to take care of my baby during class. I feel I have the justice I deserve. My dream is to graduate and become a health worker or start my own business," says Rwema.
Kvinna till Kvinna has supported women's rights in Rwanda since 2017. Rwanda has the world's highest percentage of women in parliament and there are strong laws to protect women's rights. At the same time, norms and traditions still hold back women. We focus on preventing gender-based violence, supporting conflict resolution and promoting women's participation in decision-making.  
9 October 2020